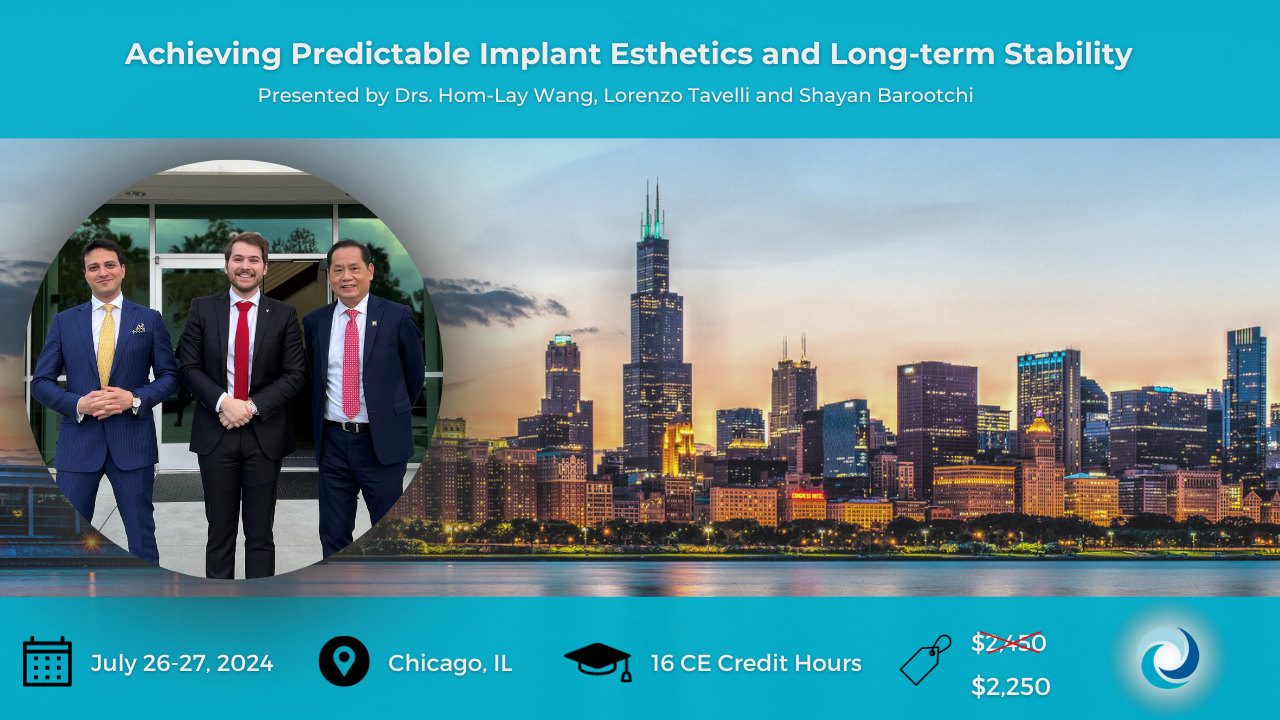 Achieving Predictable Implant Esthetics and Long-term Stability
Date:
Friday - Saturday, July 26-27, 2024
Time:
8:00am-5:00pm
Schedule:
Registration: 7:30am-8:00am
Lecture: 8:00am-5:00pm both days
Breakfast & lunch provided
Venue:
HuFriedy Group | 3232 N. Rockwell St. | Chicago, IL 60618
City:
Chicago, IL
Country:
USA
Tuiton:
$2,450 **$2,250 EARLY BIRD RATE - register before 5/24/24**
Number of Credits:
16 CE Credit Hours
Language:
EN
Course Description
This two-day hands-on workshop will cover the importance of esthetic implant treatment planning, implant surgery, and related soft and hard tissue grafts. The lectures will cover the basics to more advanced and contemporary concepts in implant therapy, focusing on the creation of an esthetically pleasing appearance in harmony with implant health. To achieve appropriate implant esthetics, careful evaluation of several factors that may influence outcomes is necessary. An "esthetic triangle" and "implant esthetic index" have been developed to address the essential foundations for creating and maintaining papilla, including adequate bone support for the implant, six-dimensional consideration, soft and hard tissue grafting to facilitate implant esthetics, and proper peri-implant phenotypes and esthetic restorations. This hands-on workshop will focus on discussing many key factors that are essential for achieving esthetic implant restorations and performing these procedures during or after implant surgery. These include proper implant placement, bone augmentation, minimally invasive soft tissue manipulation, and restorative reconstruction with a biologic foundation. Participants will become familiar with every aspect of implant therapy and related surgical procedures, especially related soft and hard tissue grafts around dental implants. By the end of this workshop, participants will have a detailed understanding of how implants can be used in their daily practice. They will have a solid understanding of the factors that influence esthetic implant outcomes and the necessary surgical techniques for achieving successful implant integration and creating beautiful, natural-looking smiles. The course will focus on contemporary surgical techniques and utilizing autogenous grafts and biomaterials to treat single and multiple gingival recessions, mucogingival deformities, and peri-implant dehiscence defects.


Learning Objectives
Understand what esthetic implant treatment planning is, including the concept of esthetic triangle.
Be familiar and able to perform techniques (soft/hard/restorative aspects) that are used to achieve these pleasing esthetic outcomes.
Learn step-by-step surgical sequences and clinical tips associated with implant surgery, immediate implant placement, bone augmentation, and soft tissue grafting.
Do you need further information?