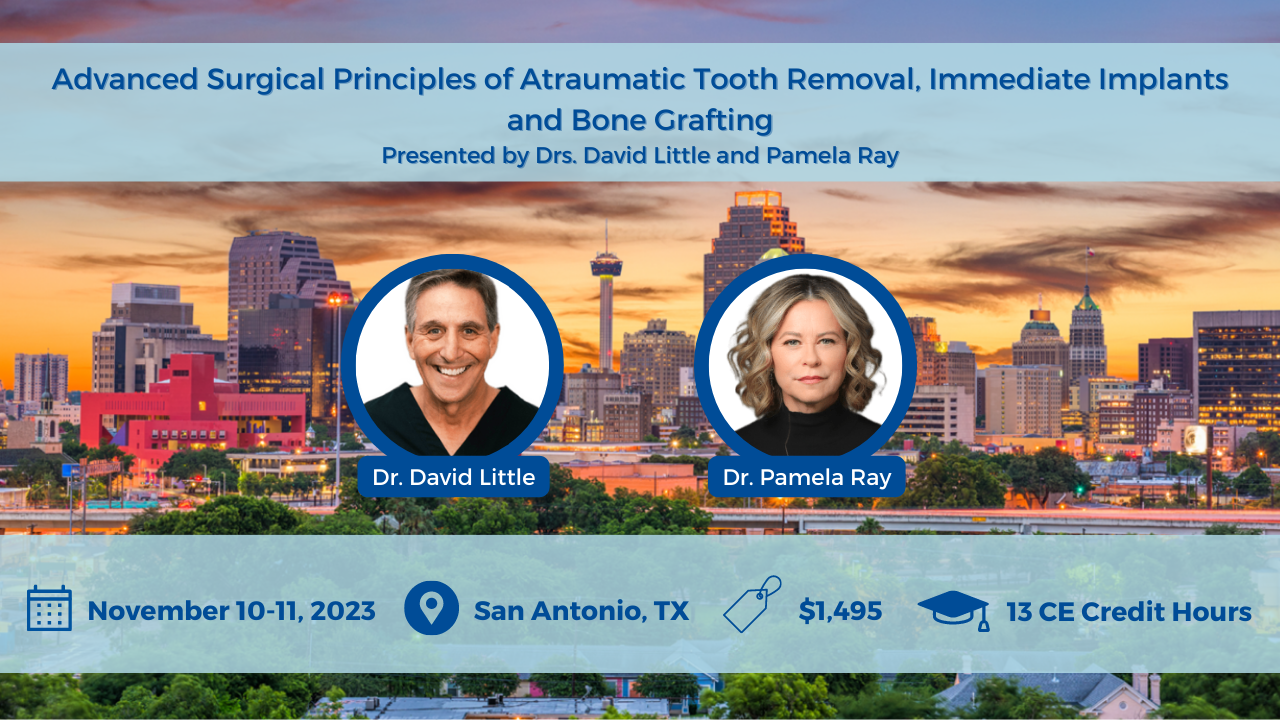 Advanced Surgical Principles of Atraumatic Tooth Removal, Immediate Implants, and Bone Grafting
Date:
Friday - Saturday, November 10-11, 2023
Time:
10th: 8:00am - 5:00pm | 11th: 8:00am - 2:00pm
Schedule:
Registration: 7:30am - 8:00am
Lecture:

10th:  8:00am - 5:00pm
11th:  8:00am - 2:00pm

Breakfast & lunch provided
Venue:
Professionals in Dentistry
City:
San Antonio, TX
Country:
USA
Tuiton:
$1,495
Number of Credits:
13 CE Credit Hours
Language:
EN
Course Description
The goal of this course is to give participants working knowledge of the techniques and armamentarium available to achieve atraumatic tooth removal to facilitate immediate dental implant placement. This information will be complemented by a presentation on appropriate use of bone grafts to preserve bone or augment deficient bone.
Learning Objectives
Live surgery of an extraction and immediate implant placement
Bone grafting procedures and indications for various graft materials
Principles of flap design, sutures and armamentarium selection for proper closure
Discussion on managing real-life complications
Hands-on training
Treatment planning of your cases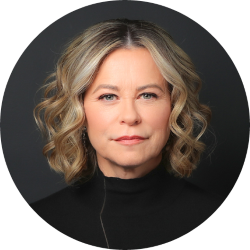 Dr. Pamela Ray
Dr. Pamela S. Ray has a Bachelor of Science Degree from Texas A&M University. She received her Doctor of Dental Surgery Degree in 1989 from The Dental School at The University of Texas Health Science Center in San Antonio. In 1991, Dr. Ray completed her periodontics training in San Antonio and has maintained a private practice in San Antonio since that time. Dr. Ray is a Fellow in the American College of Dentists, a Fellow in the International College of Dentists, and a Diplomate of the American Board of Periodontology, the highest academic achievement to be obtained in periodontics. Dr. Ray has been involved in the development and advancement of various dental products including implants, bone grafts and dental barrier membranes used in guided bone regeneration. Dr. Ray has lectured and taught surgical courses for years and enjoys sharing her knowledge of dental surgery. She has a particular interest in regenerative therapy for both soft tissue and bone. Dr. Ray is very honored to teach with Dr. Little.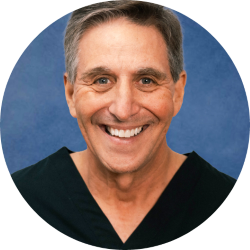 Dr. David A. Little
David A. Little, DDS, received his doctorate degree in dentistry at the University of Texas Health Science Center at San Antonio Dental School and now maintains a multidisciplinary, state-of-the-art dental practice in San Antonio, Texas. An accomplished national and international speaker, professor, and author, Dr. Little also serves the dental profession as a clinical researcher focusing on surgical placement and restoration of dental implants and technology integration. He also shares his expertise on emerging technologies including CBCT, planning software, surgical guides, digital workflow, and restorative techniques.
Do you need further information?