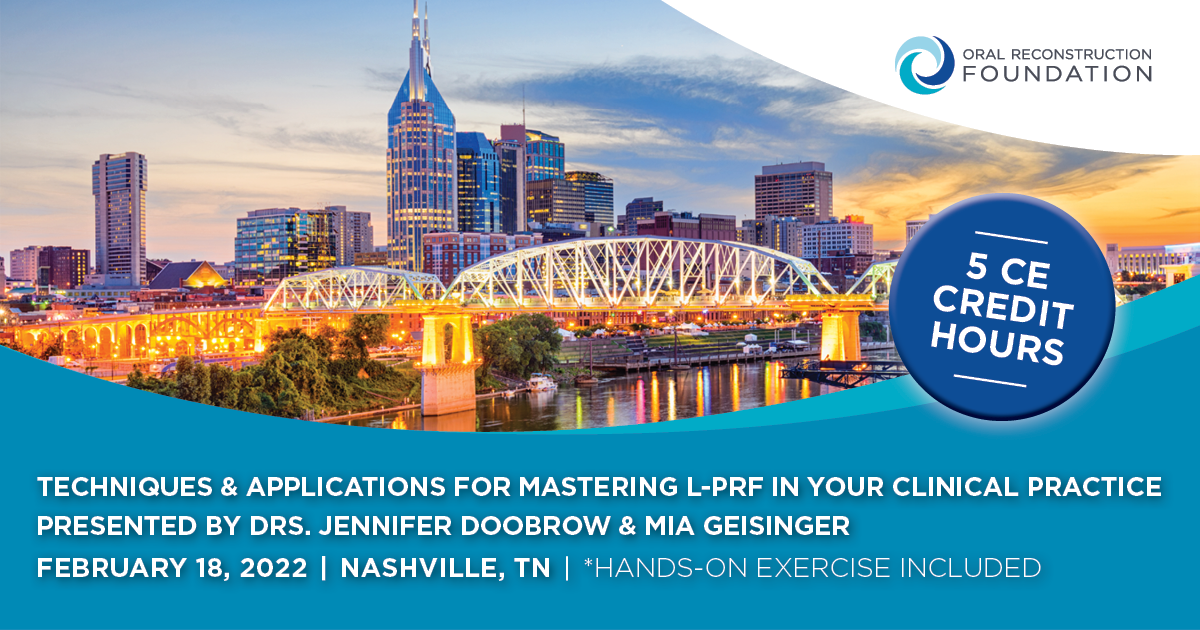 Techniques and Applications for Mastering L-PRF in Your Clinical Practice
Date: Friday, February 18, 2022
Time: 9:00am - 3:00pm
Venue: Franklin Marriott Cool Spring
City: Franklin, TN
Country: USA
Tuiton: $495
Number of Credits: 5 CE Credit Hours
Language: EN
Course Description
After injury or surgical intervention, platelets are natural reservoirs of growth factors and cytokines that play a critical role in healing through the formation, maturation, and repair of soft and hard tissues. Platelet concentrates (PCs) have been used to improve healing in both medical and dental applications since the 1940s. The development of second-generation PCs, including leukocyte-rich platelet rich fibrin (L-PRF), have become an integral part of many dental practices due to the lower cost of preparation, high rate of patient acceptance of autologous materials, and the many applications for enhancement of hard and soft tissue grafting. This course will review the underlying mechanisms of action of L-PRF, the evidence regarding its utility in oral surgical procedures and its capability to improve handling characteristics of other graft materials. Instructors will review step-by-step protocols for L-PRF preparation from venipuncture through placement at intraoral sites in a variety of clinical scenarios and will provide hands-on practice with these steps to enable practitioners to develop new skills to enhance their regenerative practice.
Learning Objectives
Identify different platelet concentrates (PCs), preparation protocols, and the advantages and disadvantages of these PCs for use in oral surgical procedures.
Describe the effect of PCs on the different cells involved in the regeneration of oral tissues and the evidence of how these impact healing after oral surgical procedures.
Evaluate the clinical applications for the adjunctive use of PCs to improve oral hard and soft tissue regeneration outcomes.
Develop skills to harvest and prepare L-PRF for use in a variety of clinical scenarios based upon the individual patient needs and clinical presentations.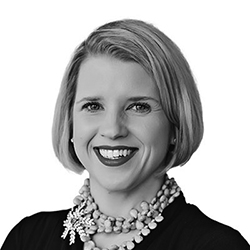 Dr. Mia Geisinger
Dr. Mia L. Geisinger is a Professor and Director of Advanced Education in Periodontology in the Department of Periodontology in the University of Alabama at Birmingham (UAB) School of Dentistry. Dr. Geisinger received her BS in Biology from Duke University, her DDS from Columbia University School of Dental Medicine, and her MS and Certificate in Periodontology and Implantology from the University of Texas Health Science Center at San Antonio. Dr. Geisinger is a Diplomate in the American Board of Periodontology and a Fellow in the International Team for Implantology. She has served as the President of the American Academy of Periodontology Foundation, as the Chair of the American Dental Association's Council on Scientific Affairs, and on multiple national and regional organized dentistry committees. She currently serves as the AAP Secretary-Treasurer, as a Board member for the ADA's Science and Research Institute. and on numerous AAP and ADA committees and task forces. She has authored over 50 peer-reviewed publications and serves on the editorial board of several publications. Her research interests include periodontal and systemic disease interaction, implant dentistry in the periodontally compromised dentition, and novel treatment strategies for oral soft and hard tissue regeneration. She lectures nationally and internationally on topics in periodontology and oral healthcare.
Do you need further information?